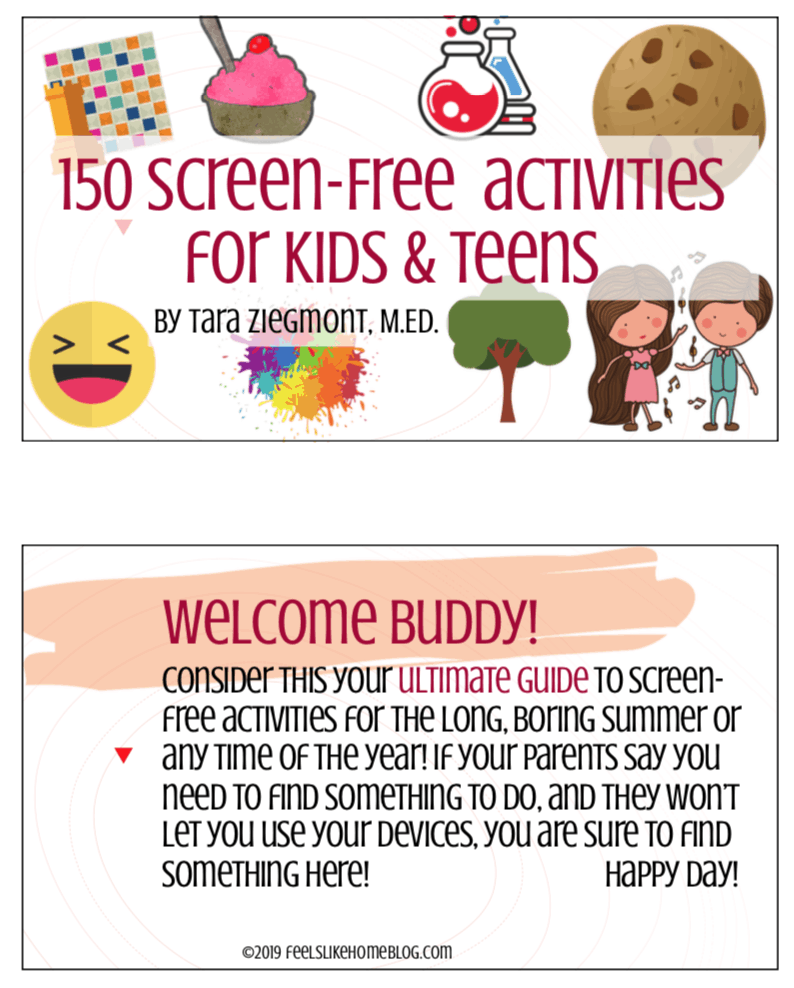 The Ultimate List of 150 Screen-Free Activities for Kids & Teens
Translation missing: en.products.product.price.regular_price
$4.99
Translation missing: en.products.product.price.sale_price
$4.99
Translation missing: en.products.product.price.regular_price
The Ultimate List of 150 Screen-Free Activities for Kids & Teens
Translation missing: en.products.product.price.regular_price
$4.99
Translation missing: en.products.product.price.sale_price
$4.99
Translation missing: en.products.product.price.regular_price
Product description
Shipping & Return
"Mom, I'm bored. There's nothing to do!"
Do you hate those words as much as I do? I'm thinking you do.
Here's what I really want to say in response,
Listen up, my sweet snowflake. It is not my job to entertain you. I have real work to do that my company is paying me to do, so that I can foot the bill for your swimming pool and ice cream truck habits and buy all those toys you think you need.

Also, it is good for you to be bored. It builds character and creativity, and eventually, I know you will find something to do. So suck it up and be bored and let your brain work. It won't kill you.
I don't say any of that, mostly because their eyes would glaze over right after the word "It is not my job to entertain you," and also because I try to be really nice and kind and gentle with my fragile snowflakes.
But seriously. It is not my job to entertain my kids. I really do have a job to do, and I really am getting paid to do it for approximately 8 hours a day.
So my kids need to deal with it and find themselves something to do.
It's not your job to entertain your kids, either.

Meet your new best friend: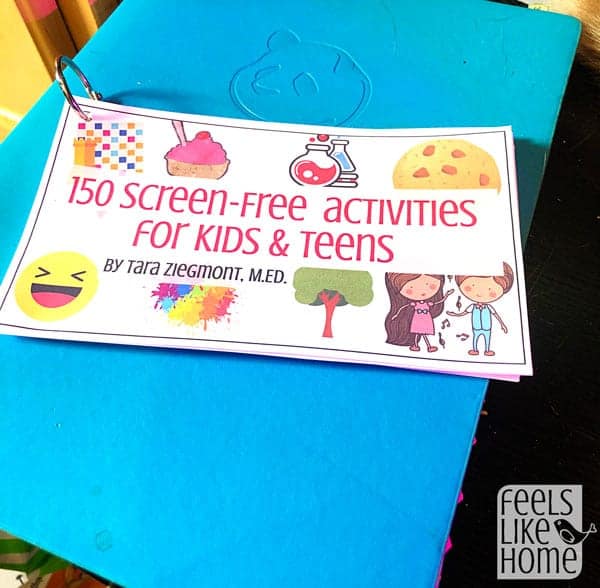 I was so tired of hearing
Mom, I'm bored!
that I created 42 cards, each featuring 3-5 different interesting, wholesome, non-screen activities that my kids could do.
Ride your bike.
Read a book.
Make astronaut pudding.
Publish a newspaper.
Have a dance party.
Play in the hose.
Play water balloon dodgeball.
Listen, friend. These things are not rocket science. I bet you did almost all of them when you were a kid who entertained herself and played outside without adult supervision in the good old days of the world.
Trust me, I hear you.
But your kids don't know.
They don't know what it was like to run around the neighborhood and not come home until the street lights come on.
They don't know what it's like to get so far away from home that you had to call collect on a payphone and ask for a ride back (just me? okay, maybe).
They don't know what it's like to get so lost in a book that they forget about eating lunch and dinner.
They just don't know because their creativity and energy have been sucked up by screens.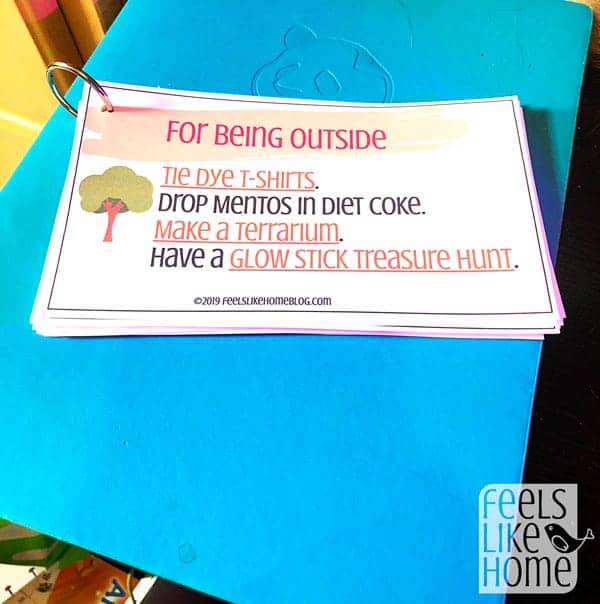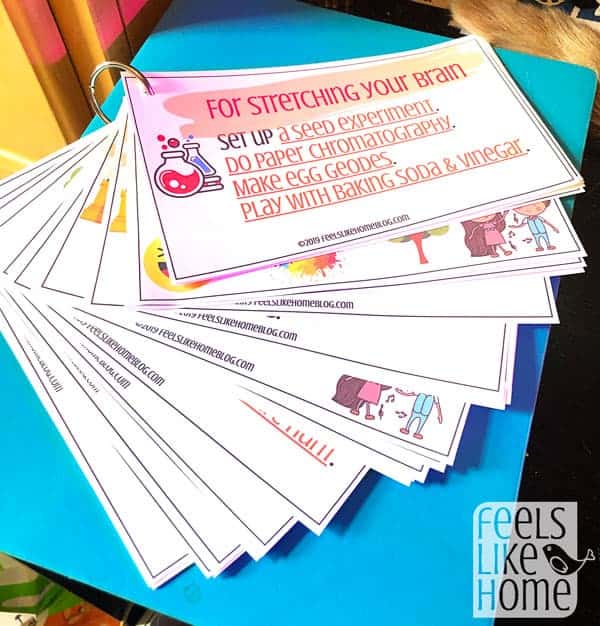 It doesn't have to be that way.
Give your kids the gift of boredom this year. Take their screens away and give them these cards and put in some earplugs until the whining is over.
They will make wonderful memories, and you'll feel peace of mind knowing that you gave them just the push they needed to get out and have a real-life life instead of being stuck in YouTube or video games all summer.
You'll all be able to look back and marvel at all the things they did. They might complain now, but someday, they'll thank you for it.
The Nuts & Bolts of 150 Screen-Free Activities for Kids
What's on these cards?
As I said above, these are simple, easy, and fun things that any kid, tween, or teen can do. You can see a few examples in the photos on this page.
The activities are broken up into the following categories:
For being outside
For staying inside
For eating
For stretching your brain
For competing (games & contests)
For laughing
For sharing kindness
For getting creative
I see "paper chromatography" in the photo? What's that?
Some of the items on these cards require a little bit of reading on your part or on the part of your kids because - have I said this before? - they don't know about a lot of stuff. So take a look at the file when you download it. All of the text in orange is linked somewhere, mostly to my blog, with complete instructions and a list of materials required. I've made it super easy for you and for them. You can rest assured that everything on my site is kid friendly with no swearing or other objectionable content, so if you want to let them use the computer to figure out an activity on the cards, it is safe to do so.
What's the age range for these cards?
I wouldn't recommend these cards for kids who can't read (all. those. words.), although if you're going to do the activities with your kiddos, there's no reason that little ones couldn't use them too.
That said, I intended the cards for kids about 6 through 15 or so. There are things like Play-Doh that older kids might not love and things like camp out in the backyard that might not work for the younger ones, but for the most part, the activities span the whole age range just beautifully.
Will I receive anything in the mail?
No, this is a downloadable file that you can print at home. I recommend printing them on white cardstock, punching a hole in the top left corner, and using a binder ring to hold them all together.
TERMS:

This is an instant digital download. No physical products will be shipped.

These cards are for personal use by one family only and not to be shared, distributed, or used for any professional or income generating activity.

I am the owner and designer of all Feels Like Home Blog digital products. I self publish and distribute my own creative works. All creative works and the collection of my products are owned and copyrighted by me. Any reproductions are an infringement of copyright and punishable by law.
Shipping cost is based on weight. Just add products to your cart and use the Shipping Calculator to see the shipping price.
We want you to be 100% satisfied with your purchase. Items can be returned or exchanged within 30 days of delivery.