You'll get a whole library of kindness ideas inside this printable pack!
In these 13 gorgeous, full-color, printable 8.5 x 11 inch pages, you will find 78 cards, each containing a random act of kindness that's doable for kids.
About half of the ideas are explained in
this blog post
, but the other half are brand new, never published before. They cover everything from acts of kindness for siblings and parents, grandparents, neighbors, the elderly, hospital patients, first responders, and random strangers.
Your kids will be looking for opportunities to be kind to just about everyone they meet!
How to Use Printable Kindness Cards for Kids
These cards are super easy to print and use. Here's what you'll need to do:
Download the PDF file from your email
Print the cards on cardstock
Cut the cards – they are rectangles for easier cutting!
Laminate for durability
Store in a small box or envelope and keep them in a safe place. (Mine are in my underwear drawer.)
Choose 7 cards to focus on in a weeklong kindness challenge. Review 1 card with your kids every day, encouraging them to look for opportunities to do that action as much as possible throughout the day. Then, switch to a new card the next day. Repeat daily for 7 days.
Repeat the challenge as often as possible!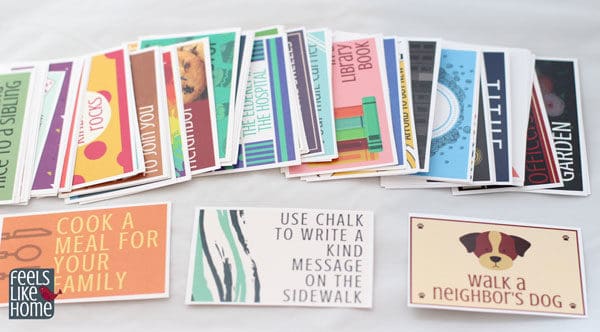 Listen, sweet friend. You can make this challenge last as long as you want. It can be a 10 day challenge or 14 days if you're up for that. I suggested 7 because it's long enough to get a habit going but not so long as to be overwhelming. If you can only manage 3 days, then do 3.
Anything you do to encourage kindness in your kids will be a bonus, moving them in the direction of loving kindness and away from entitled greed.
Now, having said that, you will experience maximum benefit from these cards if you use them consistently, at least a few times a week.
Do you want kind kids? Download the cards today!
[add_to_cart id="38006"]