44 Positive Affirmations for Defeating Cravings and Overcoming Addiction
Translation missing: en.products.product.price.regular_price
$6.99
Translation missing: en.products.product.price.sale_price
$6.99
Translation missing: en.products.product.price.regular_price
44 Positive Affirmations for Defeating Cravings and Overcoming Addiction
Translation missing: en.products.product.price.regular_price
$6.99
Translation missing: en.products.product.price.sale_price
$6.99
Translation missing: en.products.product.price.regular_price
Product description
Shipping & Return

Do positive affirmations work?
Because I am a Christian believer with a strong faith, I wanted some evidence that positive affirmations would help me to defeat that nagging ugly voice I hear and forge new pathways in my brain. Turns out, there is real science behind the power of positive affirmations.
According to an article in the
journal Psychology Today
, "affirmations can be a powerful tool to help you change your mood, state of mind, and manifest the change you desire in your life."
The messages you allow to permeate your brain, to really sink in, have the power to actually change your brain, causing new pathways to be formed and old ones abandoned. And then, of course, new pathways lead to new thoughts, new thoughts lead to new actions, specifically, actions that don't include acting on the impulse to eat brownies.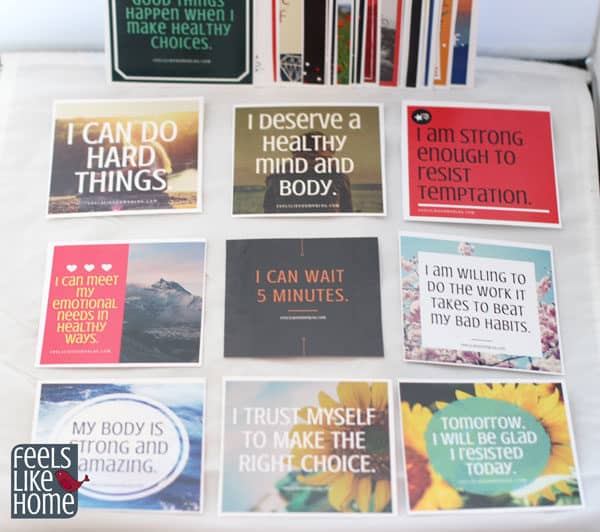 What can positive affirmations do for you?
That little voice in your head criticizes you. It makes you feel guilty, afraid, angry, and unloved. You constantly worry that you might be screwing up your life, that you'll never be able to stand up against these temptations.
These negative thoughts can have power over you if you don't replace them with positive thoughts - truths based in love, peace, and hope.
Research has shown that positive affirmations:
Combat the negative effects of stress.
Boost problem-solving abilities.
Create long lasting feelings of happiness.
These printable positive affirmations will encourage you and lift your mood. They will help you to forge connections in your brain between healthy choices and the life you really want. And, perhaps most important of all, they will remind you to see yourself the way God sees you - a beautiful, beloved, and peaceful child.
When you study these cards daily, you will:
Feel confident in your ability to make healthy choices
Treat yourself with patience, respect, and love
Accept your imperfections without judgement
Stop beating yourself up about your slips and mistakes
Feel proud of yourself as you celebrate success

How to use these positive affirmations
Here's what I did with these cards:
Download the file (um, obviously, right?)
Print the cards on cardstock
Cut the cards - they are squares for to make this easy!
Laminate for durability
Store in a small box or envelope and keep them in a safe place (Mine are in my underwear drawer.)
Choose one affirmation to focus on at a time. You might want one per day or one per week, or just change it whenever you feel like it.
Post somewhere that you will see it several times throughout the day. I like mine on the bathroom mirror, but you could also put it on a kitchen cabinet, the fridge, your car's dashboard, or some other spot.
Repeat the affirmation three times every time you notice it, preferably out loud. (But I understand if you say it in your mind because there are other people around.)
[add_to_cart id="37349"]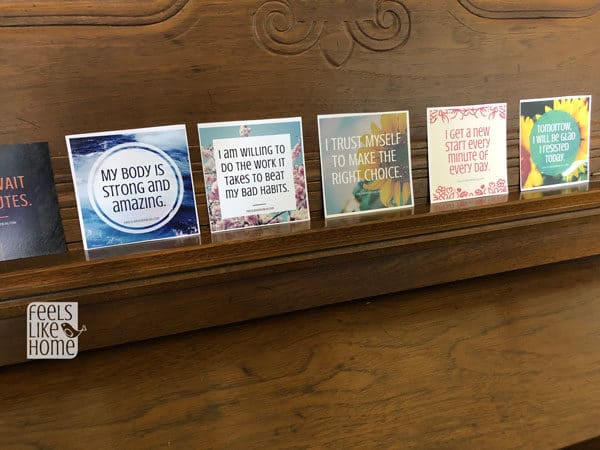 Download these positive affirmations for overcoming temptation and addiction today to get the encouragement you need!
Claim a mindset of peace and take back your thoughts back from the enemy.
You can be confident and whole again.
TERMS:
This is an instant digital download. No physical products will be shipped.
These cards are for personal use by one family only and not to be shared, distributed, or used for any professional or income generating activity.
I am the owner and designer of all Feels Like Home Blog digital products. I self publish and distribute my own creative works. All creative works and the collection of my products are owned and copyrighted by me. Any reproductions are an infringement of copyright and punishable by law.
Shipping cost is based on weight. Just add products to your cart and use the Shipping Calculator to see the shipping price.
We want you to be 100% satisfied with your purchase. Items can be returned or exchanged within 30 days of delivery.