30 Best Quotes From Our Favorite Children's Books Printable
Translation missing: en.products.product.price.regular_price
$3.99
Translation missing: en.products.product.price.sale_price
$3.99
Translation missing: en.products.product.price.regular_price
30 Best Quotes From Our Favorite Children's Books Printable
Translation missing: en.products.product.price.regular_price
$3.99
Translation missing: en.products.product.price.sale_price
$3.99
Translation missing: en.products.product.price.regular_price
Product description
Shipping & Return
We are a reading family. We own more than a thousand books (well over, if you're counting), and we read daily. We also listen to a lot of audiobooks, especially when we're in the car.
We've started listening to the Harry Potter series recently which has spurred a new obsession in my children. They now watch Harry Potter YouTube videos and play Harry Potter pretend games and Harry Potter Barbies and Harry Potter Legos and are already begging to be Harry and Hermoine for Halloween.
I like that they get so into their stories, but I don't remember a commitment like this since we read Little House on the Prairie and The Chronicles of Narnia. Those are the only two other series that seemed to captivate their entire lives like Harry and company are now.
When I asked them what their favorite stories were, they both said Harry Potter, but then Grace quickly said she loved The Penderwicks and The Chronicles of Narnia, too, and even The Witches by Roald Dahl.  (Which I thought she did NOT like because it was a little too scary for my anxious girl.)
I personally could never choose a favorite children's book. There are so many that I have loved so dearly:
My favorite picture books
My favorite chapter books
I want to go on and on, but I'll spare you. Like I said, we are a reading family, and it all began with my mom sitting on the side of my bottom bunk almost forty years ago, trying to stay awake while she read story after story to my sister and me.
If you're interested in an expanded list of our favorite picture books and chapter books, check out 101 Picture Books to Read Before You Grow Up, 101 Chapter Books to Read Before You Grow Up, and the 40 Best Audiobooks for Kids and Families. They are annotated lists that tell what we loved most about the stories.
So anyway, most of the quotes below happen to be from chapter books because picture books are often more simplistic in their language and thoughts (but not always!).
You can get all 30 images, sized 4 to a page (3.5-inch squares) for easier printing.
30 Best Quotes From Our Favorite Children's Books
This first quote was picked out by my daughter, Gracie, when she was very little. We'd read Pinkalicious for the forty-third time, and she was handing out cupcakes to her little friends, and she said, "You get what you get, and you don't get upset." I was in awe because it was the perfect lesson for the situation, and she remembered it word for word from the book. Pinkalicious is always appropriate.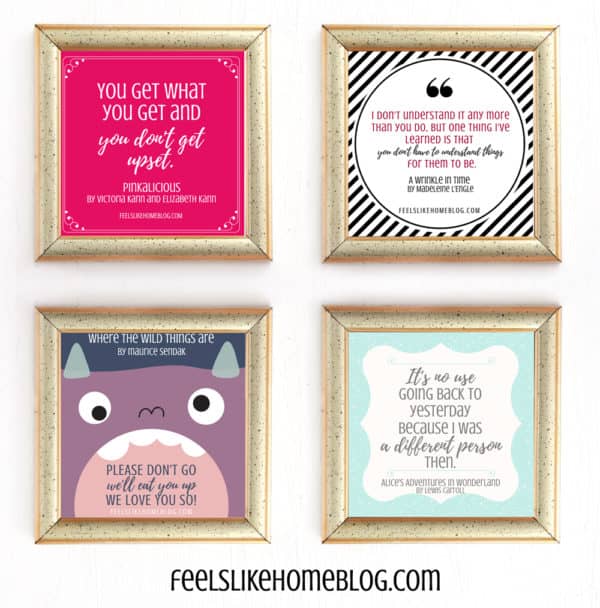 I hope you've enjoyed this simple quotes from my favorite children's literature. I have found that kids' books, much more than grown-up ones, contain so much inspiration and encouragement that they always leave the reader better off than when she started.
I don't think I can say the same thing about some of the grow-up books I've read.
TERMS:
This is an instant digital download. No physical products will be shipped.
These cards are for personal use by one family only and not to be shared, distributed, or used for any professional or income generating activity.
I am the owner and designer of all Feels Like Home Blog digital products. I self publish and distribute my own creative works. All creative works and the collection of my products are owned and copyrighted by me. Any reproductions are an infringement of copyright and punishable by law.
Shipping cost is based on weight. Just add products to your cart and use the Shipping Calculator to see the shipping price.
We want you to be 100% satisfied with your purchase. Items can be returned or exchanged within 30 days of delivery.