The Marriage Builders Toolkit
Translation missing: en.products.product.price.regular_price
$14.99
Translation missing: en.products.product.price.sale_price
$14.99
Translation missing: en.products.product.price.regular_price
The Marriage Builders Toolkit
Translation missing: en.products.product.price.regular_price
$14.99
Translation missing: en.products.product.price.sale_price
$14.99
Translation missing: en.products.product.price.regular_price
Product description
Shipping & Return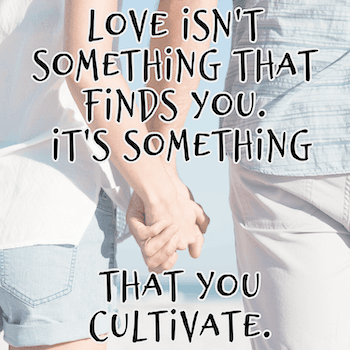 Two hearts.
One life.
One great marriage.​
I recently surveyed over 100 women about the challenges they faced in their marriage, and do you know what they said?
Overwhelmingly, the most common concerns were:
How do we communicate after all this time?
When have grown apart and I want to find my way back to him.
I want to improve the intimacy in our connection.
If you identify with one or more of those statements, you are definitely not alone!

Lots and lots of wives feel the same way.
I used to be one of them, but not anymore.
This collection of resources can help you to get where I am now, a loving partner in a healthy, thriving relationship.
You can have all this and more:
Opportunities to have one on one conversation and make lots of fun memories
A partner who feels respected and valued - and respects and values you in return
A plan for time away in little and big ways, just for the two of you
A rich prayer life where you pray daily for your husband, your marriage, and yourself as a wife
An endless supply of things to talk about when you're together
A healthy, thriving relationship that can weather anything life throws at you
It's ALL possible, with The Marriage Builders Toolkit! I'll show you how!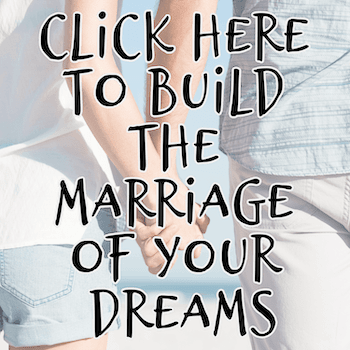 Here's why I wrote this book
I created the Marriage Builders Toolkit when I realized that so many women, like my husband and I, were struggling with painful marriages. These women were embarrassed to seek help from outside sources, instead looking to books and magazines for resources to improve their relationships, but they weren't getting the help they needed.
My husband and I have spent more than 6 years in emotionally focused therapy together to heal hurts caused by our childhoods and by each other. I am proud to say we now have a very strong, healthy marriage, and we are here to help you build your marriage up to its full potential.
This collection features a 30-day challenge that I carried out in 2019 to rejuvenate my marriage and develop it into the holy blessing that God intended and a 40+ page ebook that will guide you to the strong marriage you want, plus more than 50 pages worth of marriage resources you can use to build up your marriage anytime.
Joe and I have a passion for helping other couples who are where we were, struggling with too-busy lives, demanding children, and a lack of emotional intimacy. We can help you restore your marriage to the blessing God intended it to be!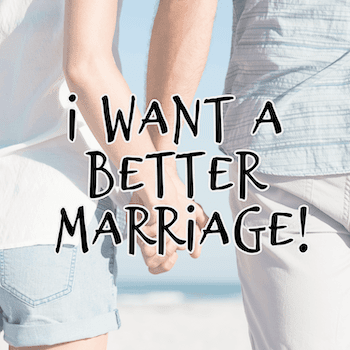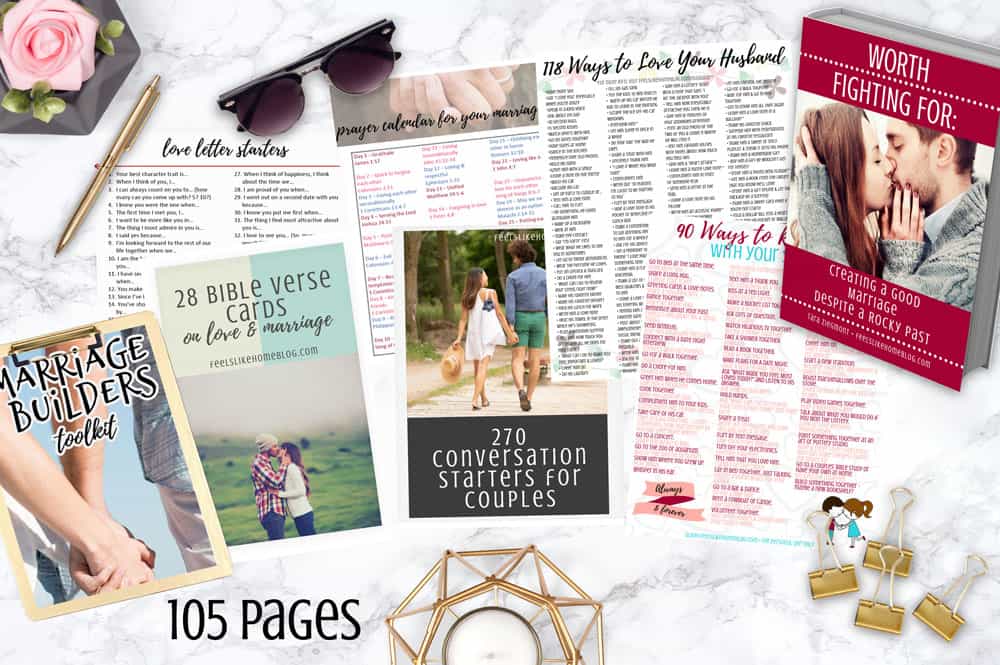 The Marriage Builders Toolkit is your answer!
THE MARRIAGE BUILDERS TOOLKIT CONTAINS OVER 100 PAGES OF MARRIAGE-BUILDING ADVICE & PRINTABLES, INCLUDING:
The Lift Up Your Husband challenge - This challenge will help you make practical & lasting changes to improve your marriage in 30 days. ($15)
A date night planner printable to help you decide what to do when you get a night out or a night in together
86 date night ideas for going out printable ($2)
102 date night ideas for staying in printable ($2)
A marriage bucket list planner to help you dream about what your future together might hold
100 couples bucket list ideas printable ($2)
3 topical prayer calendars for you, your husband, and your marriage to focus your prayer time on the things that really matter ($2)
An alternate prayer plan for wives who are too busy to manage 3 separate calendars
92 love letter prompts to get the juices flowing ($2)
118 ways to love your husband - with a discussion of love language & what that means for marital relationships ($2)
A personal play list that has nothing to do with music
A couple's play list that will give you ample opportunities to "just be" together
270 conversation starter cards for married couples ($5)
28 printable scripture cards on love & marriage ($6)
63 Bible verses on love & marriage
90 ways to reconnect with your spouse ($3)
Worth the Fight: Creating a Good Marriage Despite a Rocky Past - This all-new 40-page resource is a guidebook for couples struggling to create a strong marriage despite a history of marital strain and stress. It lays out the 11 puzzle pieces that my husband and I have found (the hard way) are the most important components of a healthy marriage with practical tips and strategies to recreate them in your unique relationship. ($6)
19 additional marriage books & resources to give you more inspiration, encouragement, and ideas to improve your relationship.
Are you ready to transform your marriage?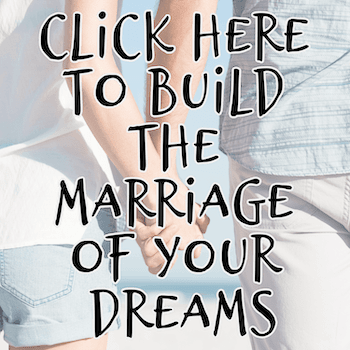 What Readers Are Saying




Got questions? Here are a few I have often heard:
Q: I know my marriage needs help, but is this really worth the price?
A: Consider this:
ONE HOUR of marriage counseling often costs between $100 and $200 – and it may not be covered insurance.
Typical marriage counseling takes 6 months of weekly or biweekly sessions – or more – to see results
My husband and I have invested thousands of dollars over more than 6 years to attend emotionally focused therapy to learn the tools discussed in this collection of valuable resources.
I think this collection is worth a lot more than $14.99 and even more than the $46 the individual pieces would add up to, but I want to make it accessible for readers like you to fix their struggling marriages.
Q: Will this collection help me to communicate with my husband?
A: ABSOLUTELY! Whether you start with the Lift Up Your Husband Challenge, the prayer calendars, setting up some date nights, or one of the many printable planners, this collection will foster many conversations with your husband starting from the very first day.

Q: Will these resources help me to re-ignite the spark that I used to feel?
A: In a word, YES! You can't complete the Lift Up Your Husband Challenge without rekindling the spark you used to feel. It will happen naturally as you work to bless him every day. But even beyond than that, you will be exploring conversations on topics big and small as you spend more time together, having special dates and discussing the conversation starters and Bible verses included.

Q: Is this a downloadable product or will a book be shipped to my home?

A: This is a downloadable product. No physical products will be shipped.

The marriage you've always dreamed of IS JUST 30 days away. DON'T WAIT ANOTHER SECOND TO MAKE IT YOUR REALITY!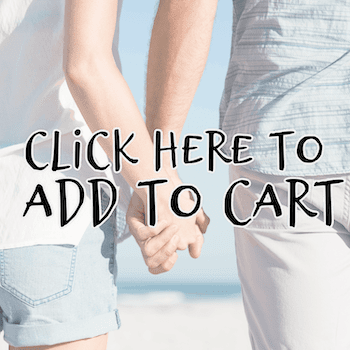 TERMS:
This is an instant digital download. No physical products will be shipped.
This ebook is for personal use by one family only and not to be shared, distributed, or used for any professional or income generating activity.
I am the owner and designer of all Feels Like Home Blog digital products. I self publish and distribute my own creative works. All creative works and the collection of my products are owned and copyrighted by me. Any reproductions are an infringement of copyright and punishable by law.
Shipping cost is based on weight. Just add products to your cart and use the Shipping Calculator to see the shipping price.
We want you to be 100% satisfied with your purchase. Items can be returned or exchanged within 30 days of delivery.